Fire Safety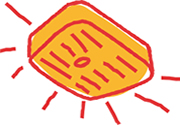 It's vitally important to have one working fire alarm in at least every floor of your home. Make sure your alarms are always in the best working order. So...
Once a week, press the test button on the front of each smoke alarm to check that the alarm sounds.
If the alarm doesn't work, fit a new battery.
Change the battery once a year (on your birthday, or Christmas, if this helps you remember). Listen out for the alarm sounding a single regular beep as this tells you that the battery is low and needs replacing.
Clean the outer and inner casings of the alarm using the hose fitting on your vacuum at least once a year.
Never take the battery out of the smoke alarm for use on another appliance as you could so easily forget to replace it.
Visit firekills.direct.gov.uk where you'll find a huge range of information about how to prevent a fire in your home.
What if a fire breaks out?
Raise the alarm among everyone in the house
DON'T try to investigate the fire yourself
Get everybody out of the house quickly, and don't waste precious time picking up possessions
Once safely outside, call 999
Never go back inside the house until you get the all-clear from the Fire and Rescue Service
GET OUT – STAY OUT - GET THE FIRE & RESCUE SERVICE OUT
IMPORTANT NOTE: You can't see it, hear it, smell it or taste it yet carbon monoxide poisoning due to poorly maintained heating systems accounts for over 20 deaths and around 200 serious incidents every year. So fit a carbon monoxide detector and make sure your heating system is professionally serviced at least once a year.